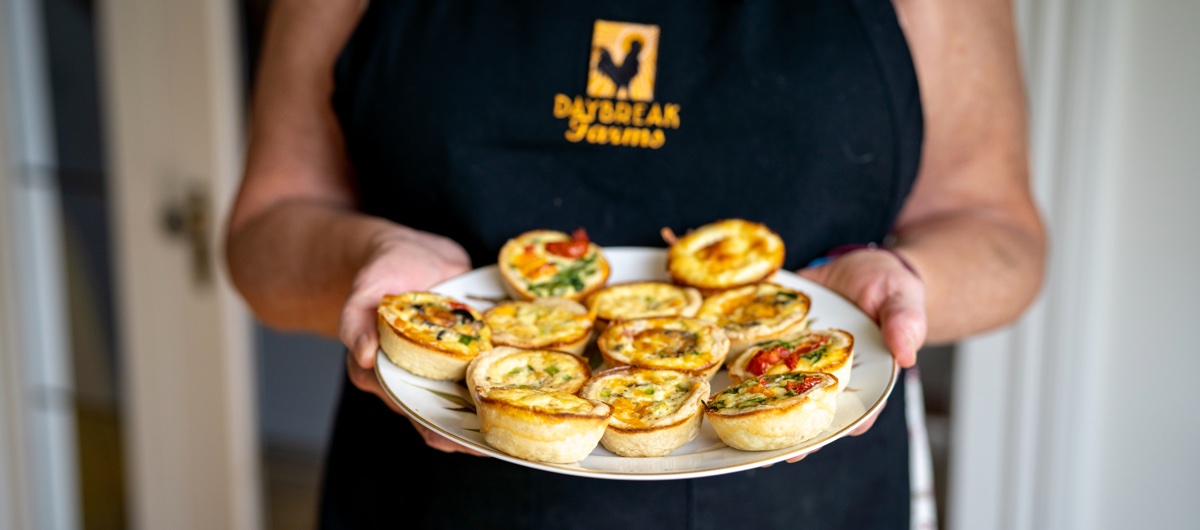 Ingredients:
Pie Crust
1 large egg
2 + ½ tablespoons ice water
1 + ½ cups all-purpose flour
½ teaspoon sea salt
10 tablespoons unsalted butter, sliced into small cubes (cold)
Filling
2 cups milk or cream or combination
1/8 tsp. salt
1/8 tsp dry mustard
1/8 tsp nutmeg
1/8 tsp pepper
2 to 3 whole eggs
Your favourite fresh ingredients. Examples: Feta cheese, Spinach, Sundried tomatoes, olives, bacon, etc.
Preparation:
Pie crust
Preheat oven to 350 degrees
In a small mixing bowl, whisk together the egg and ice water. Set the bowl aside
In the bowl of a food processor, add the flour and salt. Pulse briefly until mixed. Add in the the cubed butter pieces and pulse until the mixture resembles coarse meal. Add in the egg/ice-water mixture. Pulse again until a lovely dough forms.
Transfer the dough onto a lightly-floured board. Roll out the quiche crust and cut out circles of dough that fits the measurements of your muffin tin holes. Lay the rolled out dough onto the top of the muffin tin holes and using your hands, gently press the dough into place. With a paring knife, slice off any extra dough that's hanging over the rim.
Stick the muffin pan with the dough into the freezer for approximately 20-25 minutes (but if you leave it in there a bit longer, that's fine too). For a flaky quiche crust it's important that the crust is cold when it's filled and cooked.
(https://www.confettiandbliss.com/flaky-quiche-crust/)
Filling
Prepare your favourite fresh ingredients by chopping everything into small pieces
Beat eggs in a medium sized bowl until fluffy. In a separate bowl, mix spices and milk together and combine into egg mixture to create your custard.
Put your favourite fresh ingredients (see above or invent your own) right into the dough lined muffin tin holes.
Beat milk, eggs, salt and spices together in a medium sized bowl. Pour mix into the muffin tins and bake for 35 to 40 minutes or until a skewer or knife inserted in the middle comes out clean.
9. Serve warm and enjoy!